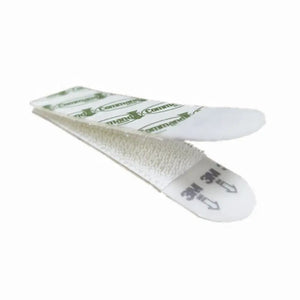 Command 3M Medium White Adhesive Picture Hanging Strips
DESCRIPTION
Removable Velcro hanging strips make hanging your block quick and easy. With a reliable hassle-free installation, you can hang your blocks up in minutes without any hardware.
simply peel each protective strip and reveal adhesive, place one exposed side to a clean wall or surface, and apply frame to the outer side of exposed adhesive.
DETAILS
Failure to follow instructions may result in damage or injury. Do not hang over beds or on wallpaper.

Checkout this a step-by-step guide

- on how to apply Command™ Picture Hanging Strips so they hold strong and come off clean.
Clean surface, ensure surface is clean, dry and free from dust, Clean with isopropyl alcohol.
Separate each strip and press the individual hook and loop pairs together.
Peel orange release paper from the loop strips.
Apply 4-8 pairs vertically to block, press firmly.
Peel release paper from the hook strips, align the block and press firmly against wall.
Press each pair for 30 seconds.
SIZE
Package Content: 4 sets of medium picture hanging strips.
ADDITIONAL INFO
IMPORTANT NOTICE: All statements, technical information and recommendations herein are based on tests 3M believes to be reliable. We does not warrant or guarantee the accuracy or completeness of this information. THE FOLLOWING IS MADE IN LIEU OF ALL WARRANTIES, EXPRESS OR IMPLIED, INCLUDING, BUT NOT LIMITED TO, ANY IMPLIED WARRANTY OF MERCHANTABILITY OR FITNESS FOR A PARTICULAR PURPOSE: 3M's only obligation shall be to replace such quantity of this 3M product proved to be defective. User is responsible for determining whether this product is fit for a particular purpose and suitable for user's method of application. Because there are many factors that can affect the use and performance of this product, some of which are uniquely within the user's knowledge and control, it is essential that the user evaluate this product to determine whether it is fit for a particular purpose, is suitable for the user's method of application, and meets the user's performance specifications and expectations.
Limitation of Liability: MEMORY BLOCK PTY LTD SHALL NOT BE LIABLE FOR ANY LOSS OR DAMAGES, WHETHER DIRECT, INDIRECT, SPECIAL, INCIDENTAL OR CONSEQUENTIAL (INCLUDING BUT NOT LIMITED TO LOST PROFITS, BUSINESS, OR REVENUES) ARISING OUT OF THE USE OF OR INABILITY TO USE THIS 3M PRODUCT, WARRANTY, OR STRICT LIABILITY.